Van Gogh Museum Tickets
Discover the most artistic collection of the famous Dutch painter Van Gogh! Public Transport Holland provides not only Transport Tickets, but also museum and other tourist activity tickets!
Visit our Tourist Ticket shop and plan your activities ahead!
Book your tickets now in our Tourist Ticket Shop!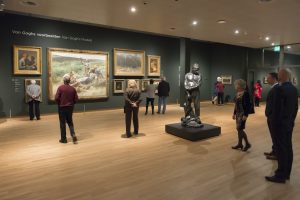 The Van Gogh Museum is a museum dedicated to the Dutch painter Vincent van Gogh. The museum is located on the Museum square in Amsterdam. The collection of the museum contains more than 200 paintings, 500 drawings and 700 letters of Vincent van Gogh, as well as his collection of Japanese prints.
When he was alive only 2 of his paintings were sold. After his death Vincent van Gogh left all of his work to his younger brother Theo van Gogh and later to his children. In 1962 the Vincent van Gogh foundation and the Dutch state signed an agreement. For 15 million the State became the owner of the entire collection from Van Gogh.
Collection
The heart of the collection is Van Gogh's paintings, the largest collection of his paintings in the world. Famous works by Van Gogh, such as The Potato Eaters, The Yellow House, Sunflowers and The Bedroom can be found here.
Transportation
For visiting the center of Amsterdam and the larger Region of Amsterdam you may buy the Amsterdam & Region Travel Ticket for 1-2-3 days.  A very handy ticket for visting place like the Zaanse Schans.
Amsterdam & Region Travel Ticket
Only going travel inside the city of amsterdam? Then a normal Amsterdam Travel Ticket is a better choice. Also available for 1-2-3 days.
Buy your Amsterdam Travel Ticket »
If you plan to travel for more days through The Netherlands, you could better choose for the temporary ('lease') OV-chipkaart which is the official transportation card for all public transportation!
See: Lease Transport Chip Card
GVB controls the Metro's, buses and trams and you need a public transport chip card or another valid ticket, such as a GVB ticket or an Amsterdam travel ticket. See more information about tickets and the OV chip card on: public-transport-amsterdam