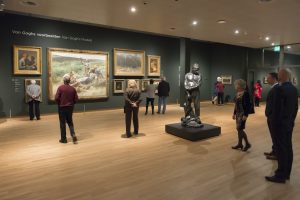 The Van Gogh Museum is a museum dedicated to the Dutch painter Vincent van Gogh. The museum is located on the Museumaquare in Amsterdam.
The collection of the museum contains more than 200 paintings, 500 drawings and 700 letters of Vincent van Gogh, as well as his collection of Japanese prints.
When he was alive only 2 of his paintings were sold. After his death Vincent van Gogh left all of his work to his younger brother Theo van Gogh and later to his children. In 1962 the Vincent van Gogh foundation and the Dutch state signed an agreement. For 15 million the State became the owner of the entire collection from Van Gogh.