In addition to the train, you can also explore Holland quite easily by bus, metro and tram. Most bus stations are situated next to the train station in the center of a city or town. City buses, trams or metros will take you anywhere in the cities. Regional buses travel to the smaller towns and villages. Express bus services and the Interliner buses are comfortable alternatives for the train for inter-city travelling.
Tram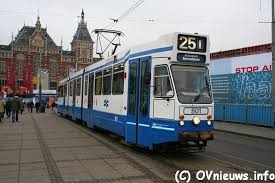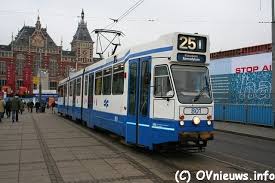 The tram is a perfect means of transport in big cities. It is easy to get on and off and takes you to your destination quickly and affordably. Another advantage is that you can do some sightseeing on the way. Did you know that tram line 2  in Amsterdam is one of the world's best tram rides? With 16 tram lines, Amsterdam is also the city with the largest number of trams in Holland, but Rotterdam, Utrecht and The Hague also offer excellent tram connections. The ride from The Hague Central Station to Scheveningen boulevard, for instance, takes just 15 minutes! Tram services usually start at 6 AM and run until midnight; check the service schedules at the tram stops for exact times. You will need a valid ticket to travel by tram: a single-use chip card or an anonymous
OV-chipkaart
. Single-use chip cards can also be bought on the tram, but usually it costs more.
Amsterdam tram routes and tickets
One of the most popular parts of Amsterdam's public transport network is the city's reliable and frequent tram service. Many of the city's trams terminate/start at Amsterdam Central Station. There are two tram 'stations' in front of Central Station – one on the east side, one on the west side (see map pictured right). They are just a short walk apart and from both areas, trams go towards the city centre before radiating outwards to different neighbourhoods and districts. Visitors to the city may enjoy this handy guide to some of the main tram stops in the city centre and their nearby attractions.
Tram line 2 has been doing its permanent circuit in Amsterdam for more than 110 years. Thousands of people step onto this tram every day to get to work, to school, to friends or family. But what they often don't know is that this is one of the most beautiful rides in the world! By the way National Geographic has designated this tram ride as one of the best tram rides in the world!