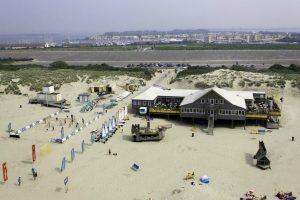 Ouddorp Beach is one of the most beautiful beaches in the Netherlands.
The North Sea beach of Ouddorp Beach is more than seventeen kilometers long. In some places the Ouddorp beach is many hundred meters wide, leaving plenty of room for all the tourists. The beach is located at the tip of the island of Goeree-Overflakkee and that makes it the perfect seaside town.
Visitors appreciate the vast and peaceful character of Ouddorp beach. In addition, the beach is suitable for sun worshipers, but also for water sports enthusiasts.
Those who really love water sports, go to lake Grevelingenmeer. Here you will find every type of water sports. You can go sailing, surfing and kitesurfing on Grevelingenmeer. You can also take lessons to improve your skills. Would you prefer to enjoy lake Grevelingenmeer in a less active way? In that case, opt for a boat tour. There are several boat operators who are happy to show you the beautiful natural landscape near the water. Boat tours leave from De Punt and Port Zélande, among other places.
When planning your visit for Ouddorp Beach, see the VVV website for events and accommodations.
Ouddorp Beach Transportation
With a Tourist Day Ticket you enjoy unlimited travel by bus, tram, metro and aslo waterbus throughout the South Holland Rotterdam & The Hague region for a fixed price for a whole day. Therefore, the tickets are valid all day from the time you first check in until services stop running. Always check in when boarding and check out when exiting the bus, tram, metro or waterbus. Price: € 14,50.
If you plan to travel for more days through The Netherlands, you could better choose for the temporary ('lease') OV-chipkaart which is the official transportation card for all public transportation!
See: Lease Transport Chip Card
Also maybe planning a visit for Amsterdam? For visiting the center of Amsterdam and the larger Region of Amsterdam you may buy the Amsterdam & Region Travel Ticket for 1-2-3 days.
Amsterdam & Region Travel Ticket
Rotterdam Welcome Card
Planing to pay Rotterdam a visit? Maybe the Rotterdam Welcome Card can be useful. This card will give you 1-2-3- days free transportation with the local PTO: RET and 25-50% reduction on entrance fees of more than 50 attractions, museums, restaurants and nightlife of Rotterdam. Get your Welcome Card here