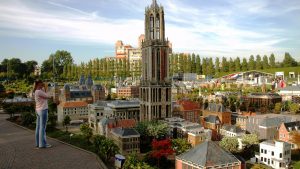 Madurodam is a miniature park and tourist attraction in Scheveningen a district of The Hague in the Netherlands.
The Park is home to a range of 1:25 scale model replicas of famous Dutch landmarks like the Rijksmuseum, amsterdam Schiphol airport, The port of Rotterdam and the traditional Dutch canal houses.
The park was opened in 1952 and has since been visited by tens of millions of visitors. The entirety of net proceeds from the park go towards various charities in the Netherlands. In 2012, Madurodam celebrated its 60th anniversary.