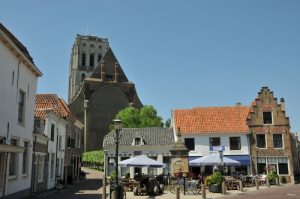 Brielle is a picturesque fortification town with ramparts and many monuments.
Brielle is a fortified town. This can be seen on the walls, ramparts, bastions and other defenses that surround the city. These had to protect the civilian population from external attacks. Over the centuries, several invaders have tried to conquer the Netherlands.
Wherever you also enter Brielle (or Den Briel, the historical name), the old town breathes the atmosphere of bygone times. Behind all the monuments lies an experience worth discovering. Visit the marina, join a city walk, stumble across the market or rest on one of the many terraces.
Brielle Transportation
Check your travel in advance to see what kind of ticket you need, see: 9292.nl
With a Tourist Day Ticket you enjoy unlimited travel by bus, tram, metro and aslo waterbus throughout the South Holland Rotterdam & The Hague region for a fixed price for a whole day. Therefore, the tickets are valid all day from the time you first check in until services stop running. Always check in when boarding and check out when exiting the bus, tram, metro or waterbus. Price: € 14,50.
If you plan to travel for more days through The Netherlands, you could better choose for the temporary ('lease') OV-chipkaart which is the official transportation card for all public transportation!
See: Lease Transport Chip Card
Also maybe planning a visit for Amsterdam? For visiting the center of Amsterdam and the larger Region of Amsterdam you may buy the Amsterdam & Region Travel Ticket for 1-2-3 days.
Amsterdam & Region Travel Ticket
Rotterdam Welcome Card
Planing to pay Rotterdam a visit? Maybe the Rotterdam Welcome Card can be useful. This card will give you 1-2-3- days free transportation with the local PTO: RET and 25-50% reduction on entrance fees of more than 50 attractions, museums, restaurants and nightlife of Rotterdam. Get your Welcome Card here