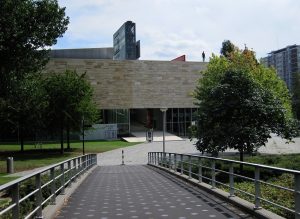 Kunsthal Rotterdam, opened in 1992, is an exhibition space in Rotterdam. It is the first art hall in the Netherlands.
The Kunsthal Rotterdam is one of the leading cultural institutions in the Netherlands. From modern masters and contemporary art to forgotten cultures, photography, fashion and design. With over twenty exhibitions a year, the Kunsthal offers a program that is dynamic and always surprising.
The Kunsthal is located on the edge of the attractive  Museumpark and the Westzeedijk. The ramp that runs right through the building bridges the difference in height of six metres and links the Museumpark with the Westzeedijk, the Hoboken area and the Park.  Next to the Kunsthal is the Natural History Museum Rotterdam.
Interested in paying a visit? then make sure to buy your tickets online. Also children below the age of 17, enter for free. See their website.
With a Tourist Day Ticket you enjoy unlimited travel by bus, tram, metro and aslo waterbus throughout the South Holland Rotterdam & The Hague region for a fixed price for a whole day. Therefore, the tickets are valid all day from the time you first check in until services stop running. Always check in when boarding and check out when exiting the bus, tram, metro or waterbus. Price: € 14,50.
If you plan to travel for more days through The Netherlands, you could better choose for the temporary ('lease') OV-chipkaart which is the official transportation card for all public transportation!
See: Lease Transport Chip Card
Also maybe planning a visit for Amsterdam? For visiting the center of Amsterdam and the larger Region of Amsterdam you may buy the Amsterdam & Region Travel Ticket for 1-2-3 days.
Amsterdam & Region Travel Ticket
Rotterdam Welcome Card
Planing to pay Rotterdam a visit? Maybe the Rotterdam Welcome Card can be useful. This card will give you 1-2-3- days free transportation with the local PTO: RET and 25-50% reduction on entrance fees of more than 50 attractions, museums, restaurants and nightlife of Rotterdam. Get your Welcome Card here