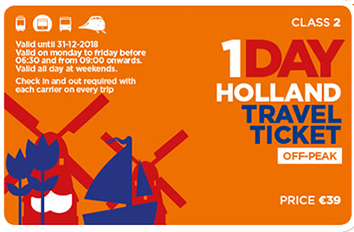 Holland travel ticket is a 1 day ticket initiated by all public transport organisations in the Netherlands. This ticket is valid for trains, busses, trams and metros in Holland. It is an easy and convenient way travel throughout Holland.  The Holland Travel Ticket is valid all day in weekdays or weekends.  The Holland travel tricket was introduced to encourage tourists to visit various Dutch attractions in one single day, and to acquaint them with the natural, cultural and architectural versatility of Holland.
Discover the Netherlands with Holland Travel Ticket
Are you planning to travel throughout Holland by using different means of transportation? Then Holland Travel Ticket is the best option for you. This ticket allows one day hassle free and unlimited travel to see cities such as Amsterdam, Rotterdam, the Hague and other. Moreover, it is a good deal for visiting popular tourist attractions. You can visit the beautiful  well-preserved historic windmills and houses in Zaanse Schans or admire the old fishing village of Volendam or do a trip to world's largest flower gardens in Keukenhof. You can do it all!
Using the Holland Travel Ticket
Same as all other tickets in Holland, with this ticket you have to check in at the beginning of your trip and check out at the end of the trip. The check out machines are either on the poles or at the gates. We advise to keep the ticket close to you to be able to check in and out on time. For a journey with a train, you check in at the special gates in the station. Sometimes you there is a pole inside the station. If you leave the train station on arrival, do the same to check out. You check each carrier in and out. So even if you switch to bus, tram or subway. You check out first in an NS card reader before checking with the other carrier.
Is Holland Travel Ticket also valid for Intercity direct, Thalys and / or ICE?
Holland Travel Ticket is aimed to foreign tourists, but may be used by everyone (including Dutch). For Holland Travel Ticket same rules apply as the NS day pass. Holland Travel Ticket is not valid on Thalys and only surcharge valid in the Intercity and ICE directly.
Experience a Dutch adventure with Holland travel ticket!