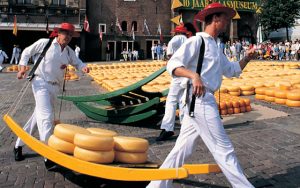 The cheese market of Edam is a Dutch cheese market that, from the sixteenth century, largely determines the economy of Edam. One of the most popular cheeses, Edam cheese is derived from this city.
The market takes place eight times a year in July and August every Wednesday morning, with volunteers replaying the former trade. The cheeses are supplied with wagons and boats.
With Public Transport from Amsterdam you can take the EBS buses towards Hoorn; the lines 110, 118, 312, 314, 316. You get off at the bus station in Edam. There is no train connection with Edam.