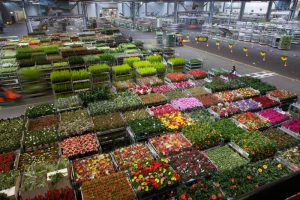 Aalsmeer, located only 10 miles from Amsterdam, is home to the largest flower auction in the world. 40 million flowers and plants a day are traded in the auction building.
The auction building floor space amounts to 10.6 million sq.ft., making it ome of the largest buildings in the world.
The auction is at full swing around 7 am, anytime before 9 o'clock will also be good to come and experience the market at its liveliest.
The auction complex is open for visitors from 7am to 11am on Monday, Tuesday, Wednesday and Friday, while on Thursday it is open from 7 am to 9 am. The ticket for the adults is 6 euros, while children's ticket is 3.5 euros.
To reach the auction complex from the center of Amsterdam, get on a bus number 172 and buy a ticket from the driver. This bus leaves from the Central Station. If you land at Amsterdam Zuid Station, get on the bus number 171 that goes to Kudelstraart through Aalsmeer. If you land on Amsterdam Schiphol Airport, get on the any of the buses 188, 198 or N72.